You may not think much about your office chair, but it can greatly impact your health. If you're sitting in an uncomfortable or unsupportive position, it can lead to back pain or even carpal tunnel syndrome.
An ergonomic office chair is designed to provide support and comfort while you work. Therefore, finding an ergonomic chair that fits your body type, needs, and budget is important. In this post, we will discuss the different features of an ergonomic office chair and how to choose the right one for you.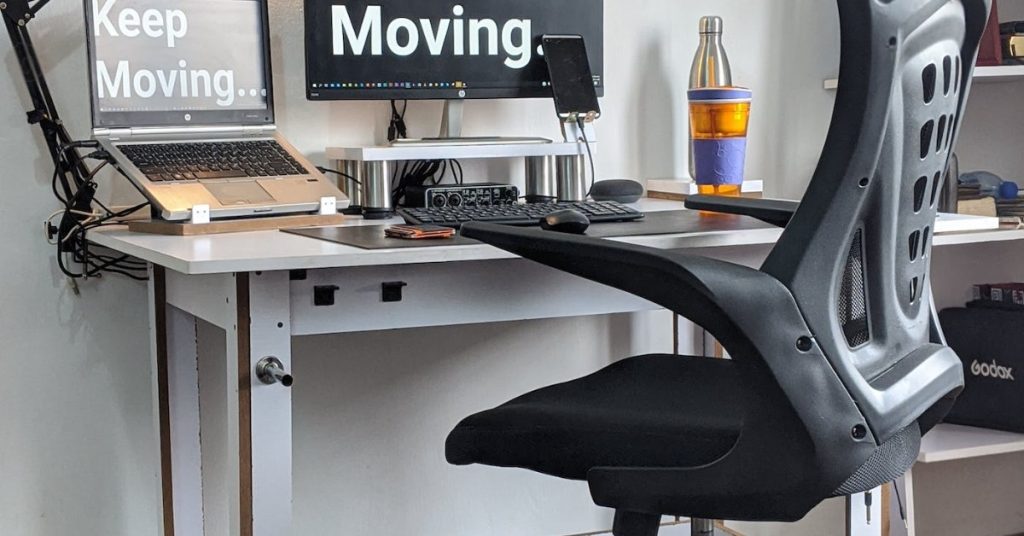 What Is Ergonomic
The term "ergonomic" comes from the Greek words "ergon", meaning work, and "nomos", meaning natural law or science. An ergonomic chair is designed to provide support and comfort to the human body, especially the back and spine. Ergonomic chairs are often used in office settings but can be found in other settings, such as schools, hospitals, and factories.
Why Use An Ergonomic Office Chair
There are many different features that an ergonomic chair may have, but some common features include adjustable seat height, backrest angle, lumbar support, armrests, and headrests. Many ergonomic chairs also have additional features such as casters or wheels for easy mobility and adjustable tension controls to allow users to customize their support level.
Most ergonomic chairs have adjustable features that allow you to customize the chair to fit your body type and sitting posture. These features can help to reduce pain and fatigue associated with sitting in an uncomfortable or improperly positioned chair. An ergonomic chair can also improve your productivity by keeping you comfortable and focused on your work.
How To Choose A Good Ergonomic Office Chairs
When shopping for an ergonomic office chair, it is important to keep in mind the following factors:
Adjustability. An ergonomic chair should be adjustable to fit your body size and allow you to adjust the seat, backrest, and armrests to support your posture.
Lumbar support. A good ergonomic chair will provide proper lumbar support to help prevent lower back pain.
Headrest. If you often work at a computer, a headrest can help reduce neck strain.
Material. Look for an ergonomic chair made from breathable material to keep you cool and comfortable during long hours of sitting.
The most important factor is finding a chair that fits your body type and provides the support you need. Other factors to remember include the price, warranty, and return policy.
Types of Ergonomic Office Chairs
When shopping for an ergonomic office chair, it is important first to identify what chair best fits your needs. There are three main types of ergonomic chairs:
With back support
With a seat pan
With both back support and seat pan
Back support chairs are designed to support your lower back and spine. These chairs typically have a high backrest that can be adjusted to fit your height and may also feature adjustable lumbar supports.
Seat pan chairs, on the other hand, are designed to evenly distribute your weight across the entire seat, minimizing pressure points. In addition, these chairs often have a waterfall edge design to help reduce leg fatigue.
The most versatile option is chairs with both back and seat support, as you can customize the chairs to fit your specific needs.
When choosing an ergonomic office chair, it is important to consider the type of chair and the features each type offers. For instance, some ergonomic chairs come equipped with headrests, armrests, or even footrests, while others may have adjustable seats or backs to accommodate different body types. Ultimately, the best ergonomic chair is the one that fits you best and provides the most comfort and support while you work.
Pros and Cons of Ergonomic Office Chairs
Pros
Ergonomic chairs can help improve your posture and reduce back pain.
They can also help improve your circulation and increase your energy levels.
Ergonomic chairs can help you stay focused and productive while you work.
Cons
Ergonomic chairs can be expensive.
Your health insurance plan may not cover them
Ergonomic Office Chair Brands In The Market
There are many ergonomic office chair brands, each with unique features. Here is a list of the most popular brands:
Ergonomic Office Chair Price Range
When it comes to ergonomic office chairs, there is a wide range of prices. You can find basic chairs for as little as $100, and high-end chairs can cost over $1,000. Of course, the price is only sometimes an indicator of quality, but generally, the more expensive chairs will offer more features and better build quality. Of course, if you want a chair that will last for years and provide optimal support, you should expect to pay more. However, plenty of great ergonomic chairs are available at all price points, so you should be able to find one that fits your budget.
Please visit our Ergonomic Office Chairs Review for further analysis.