Finding an office chair that fits your body perfectly can be challenging if you are short. However, there are some great options out there for you. This article will examine some of the best office chairs for short persons. We will also provide tips and advice on choosing the best one for your needs.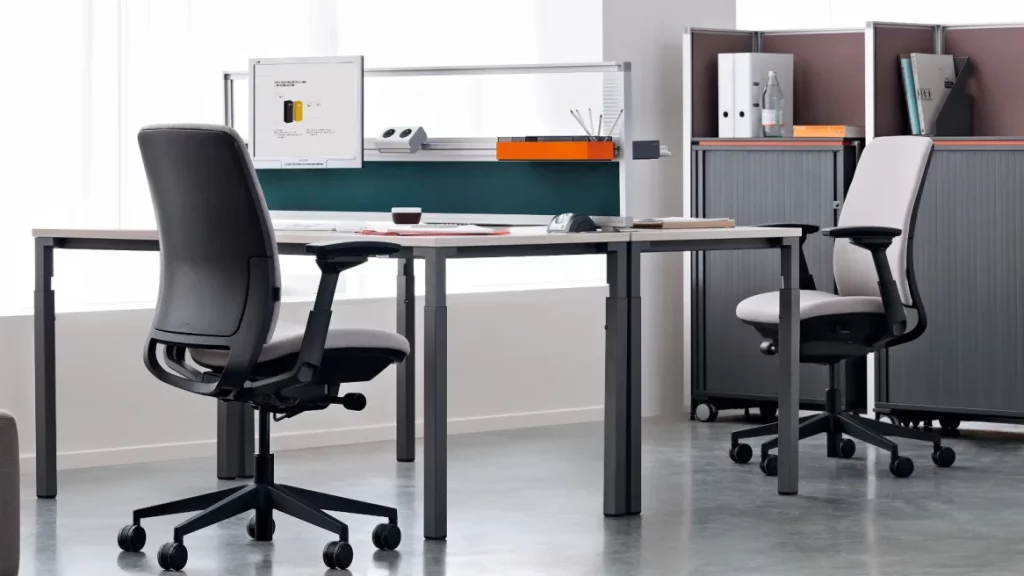 Top 5 Picks
Like taller people, short people also face difficulty finding a chair that fulfils their needs and suits them well. But worry not! We are here to your rescue. After extensive research, we found some of the best office chairs for short people.
Here's our first pick from the best office chairs for a short-person list. It is not only pretty but is genuinely durable. This Amia task chair with various adjustments is an excellent choice for shorter guys.
So let's get into it!
Construction
The remarkable thing is that it's environmentally friendly, comprising 97% recyclable material calculated by weight. Another boon is that you can order it with three upholstery options: Standard fabric, breathable mesh, or sewn fabric. Get yours with the upper covering of your choice. With dimensions 23″ x 27″ x 39″, it can bear a weight of up to 300 lbs.
Features
Liver Lumber Support This is useful as panels are placed in the chair's backseat. These panels can move freely to adjust the shape of the backrest to support your spine as you change your position in the chair and give you support where needed. The bonus point is that it not only provides support to the lumbar region but up to the mid-back area resulting in minimum stress on the spinal cord.
Adjustable Seat Depth
This feature allows you to adjust the depth of the chair's seat according to your comfort and body size. For example, you can set the seat depth anywhere between 15.5″ to 18.5″ according to your legs and body size.
Adjustable Seat Height
You can also adjust the height of the seat from 16″ to 21″ according to your legs size, and this lets you set the seat height that makes your legs comfortable and saves you from getting sore.
Back Recline
The chair's backrest has a reclining ability of up to 120 degrees. So if you get tired of sitting straight for hours, you can tilt the chair's backrest and relax.
Super Flexible Armrests
The chair's armrests are super flexible and can be moved up and down, back and forth, side to side, and even pivot up to 30 degrees. Of course, you can also retract these whenever required.
Flexible Seat Edge
The seat edge is highly flexible and can automatically flex to minimize the pressure on your legs when leaning back or forward.
Bottom line
Trust us; this is one of the best chairs for a short person you can have. An expensive chair but highly recommended as it is not only durable but extremely ergonomic. All the customizable adjustments can help you eliminate backache, neck, and leg pain as you can easily set it according to your size. So if money is not an issue, go for it without thinking twice.
Are you fond of racing car-style chairs but find them hard to match your size? Worry not! Our next pick for the Best office chairs for a short person may put a full stop to your hunt. In appearance, it resembles the gaming chair and is ergonomic and relaxing to pamper your body.
So let's begin!
Construction
Usually, the gaming chairs have a high back which could go better with shorter people. However, this one is different as it has a gaming chair design but with a back suitable for short guys. With a profusely padded backrest and seat, the upholstery of this one is a blend of PU leather and breathable mesh fabric. The mesh fabric is an excellent addition as it allows for airflow and prevents you from sweating. In addition, it has the strength to bear weight up to 280 lbs. Dimensions are 19.8 x 19.8 x 42 inches.
Features
Adjustable Height
The pneumatic gas lift grants you the power to adjust the seat height as high or as low as you want between the range of 15.3″ to 18.3″.
Lumbar Support
With its curved back and excellent lumbar support, it ensures a naturally bent position of the spine. Furthermore, it reduces pressure on the lower and upper back and keeps you relaxed.
360 degrees swivel
It's capable of swivelling at 360 degrees, allowing you to move around swiftly in your workplace while sitting in your chair.
Padded Armrests
Its armrests are thickly padded to align your arms and wrists while working comfortably.
High curved back
The back of the chair is high and curved to save you from neck pain and gives perfect support to your spine, respectively.
Back recline
Its back is quite flexible, which can recline back and rock back and forth to relax during a short break from work after hours.
In-Built Headrest
For resting your head while leaning backwards after long hours of working, it brings along a built-in thickly padded headrest that relieves the neck and head.
Bottom line
One of the Best office chairs for a short person on a pretty low budget, makes it a good option for those who cannot afford high-priced chairs. It is both ergonomic as well as elegant in appearance. One of the best features is using breathable mesh and PU leather for outer covering. The curved back and excellent lumbar support are two of the most ergonomic features. At such a low price, it is a good buy!
The next chair that paved its way to our best office chairs for a short person list is the SitRite Kids Chair. Yes, you read it right. It is made for children aged 4 to 16 years but can also suit you well if you are up to 5 feet and is tiny, like a teenager. In addition, it offers you a wide variety of cool, bright colours.
Constructions
Its unibody design with a backrest and seat generously padded with hypoallergenic block foam adds to its ergonomics and comfiness. Dimensions are 21 x 22 x 36 inches, and the capacity to hold weight is up to 330 pounds.
Features
Seat Depth adjustment
It comes with the option of customized seat depth adjustment. You can adjust the seat depth between the range of 15.5″ to 17.5″. The seat is also slidable, so this allows you to set it as per your comfort.
Detachable Footrest
Though it can adjust the height as per the individual's preference to give further liberty and ease, it brings along an additional removable footrest that can further minimize the resting distance of feet.
Lockable Casters
The chair's casters are made up of urethane, which comes with wheel covers and lets you lock the wheels to stop the chair from moving.
Easy to Assemble
It is easy to assemble in no time. It comes in three pieces, the base, the cylinder and the seat.
Bottom line
This one enjoys some excellent reviews from adults with a height of 5 feet or less, especially women. Talking of downsides, it fails to recline, and the armrests are not adjustable. Additionally, the back of the chair is fixed and cannot be tilted, which is extremely helpful in releasing back tension. Despite these, it's an excellent match for Petites
Next up, the Boss Double Plush Mid-Back chair is another one that occupies the place in our best office chairs for short person list. If you're not concerned with aesthetics and looking for a basic office chair at a reasonable price, then your search may end on this one.
So, let's take a closer look!
Construction
The cushion of the chair is stiff but soft. The upholstery is a mix of leather, polyurethane, and not 100% leather, which adds to its resilience. The sides of the back and seat cushions are covered with breathable mesh fabric, so airflow is possible. Additionally, it will increase its life. The chair's base is nylon with double-wheeled hooded casters to glide smoothly over the floor without scratching. Dimensions are 32″ x 31″ x 40.5″ and can support a weight of 250lbs maximum.
Features
Lumbar Support
It has lumbar support to align your back and hip, protecting you from scary backaches.
Height Adjustment
It has the option of height adjustability, so you can easily set the height of the chair to correspond with your office table or work desk.
Waterfall edge-style seat
It has a waterfall-designed seat edge to relieve pressure points by improving blood circulation in the knees and legs.
Padded Armrests
Armrests are padded and give your arms proper support while you are working. But the downside is they are not adjustable.
Back Recline
It also has the feature of tilt and lock. It allows you to tilt and set the back of the chair between 90-120 degrees.
Bottom line
You may get your hand on this one if you are tight on budget and need a chair with basic ergonomic features. It doesn't provide many adjustability options and may last up to a few years, but considering the price, it's a good deal.
If you're looking for a budget-friendly yet ergonomic chair, check the last entry from our best office chairs for a short-person list. It has impressive features to support you during long work hours and gives you several colour options. Interested in knowing more?
So, here we go!
Construction
The edge office chair is an ergonomic chair that pampers your body with its thickly padded seat and a breathable mesh back. The seat is covered with faux leather, and the chair's base is made of nylon. The chair's capacity is 330 pounds, and its dimensions are 26.5 x 24 x 36 inches.
Features
Ventilated Curved Backrest
The best feature of this chair is its breathable mesh backrest, making it the best choice to sit in for long hours as it allows airflow, saving your back from sweating.
Height Adjustment
It comes with the option of height adjustment that gives you the power to control the seat's height, depending on how high you prefer it to be. For example, you are free to set the height between 17.5″ to 21″.
Flip-up Armrests
You can move the chair's armrests in an up-and-down position. This is an excellent feature, especially when space is smaller, as you flip up the armrests and store the chair under the desk.
Lumbar Support
One remarkable feature of this chair is that it provides excellent lumbar support. Though the lumbar support is not adjustable, it still provides you with much comfort as it comes with proper positioning.
Waterfall style seat
To add to ergonomics, its seat plate has a waterfall design that helps reduce the pressure off your thighs and lower legs.
Base and casters
The chair's core is made up of nylon equipped with dual-wheeled casters that ensure smooth and easy mobility of the chair.
Bottom line
The ergonomic features, especially the ventilated backrest, excellent lumbar support, and flip-up armrests, make it worth the price. Though we wish it had adjustable lumbar support, this is fine.
Buying Guide
Wrapping Up
It's all about finding the right fit. We know how important it is to find the right office chair—and we want to help! So if you're looking for an ergonomic office chair for a short person that will help you avoid aches and pains in your back, neck, and shoulders while remaining comfortable enough to keep you awake throughout the day, here are our top picks:
1) Amia Task Chair, if you don't mind the price tag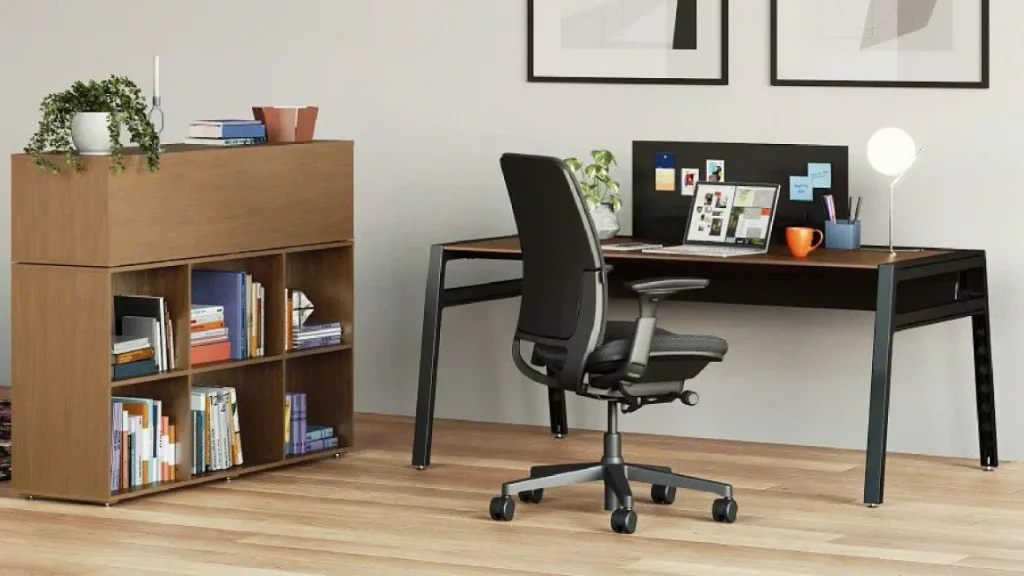 2) Modway Edge Office Chair if you are on a tight budget.